Review of The Dating Black Book
- by TokyoPUA - Fast Seduction 101
(Edited for length)

I've often said that the reason we need advice on women at all is that our fathers didn't or couldn't take the time to teach us what we needed to know (and our mothers taught us the wrong things). What I felt like while reading this book was that a combination of a martial arts sensei, a wise man, a great sales man, a seductionist, and finally dear old dad were all rolled into one giving me the kind of great advice I needed years and years ago.
If you are the type of person who thinks "better late than never" then give this book a good reading. Like the author says in one of his cool, yellow highlighted quotes "You don't know enough to be pessimistic". And if you are looking to better your success with women, you don't know enough not to learn even more by buying this incredible book.


A good PUA (pick-up artist) I once met said "you have to run it like a business", meaning that you have to be serious and systematic towards your approach to success with women. I would say that like no other book I have read on the subject of women, The Dating Black Book brings together examples from actual business (sales in particular) to show you how to really apply strategy and tactics based on sound knowledge to your pursuit of women...
In The Dating Black Book, you find out how to apply this concept to dating and success with women, and how to keep on track with the goals that you set, by following various stages he sets forth for you...


I also found myself during the course of reading the book facing personal and business issues that needed strength and resolve, and every time I would come back to reading this book, I found that it would give me encouragement just due to all the positive, logical, and upbeat advice it was giving.
For example, a key element to this book is pragmatism, the idea of living in the real world and seeing things (women in particular) for what they really are, and dealing with things accordingly. It is sprinkled with wise advice like this that will help you improve your life in general, not just in the area of seduction and dating...

Here is some other miscellaneous cool stuff that you will also find in the over 200 pages of this book:
"Top Ten Dating Mistakes"
Availability ˆ when and when not to be available, how to schedule dates
Why you don't want to have too many women friends (I'd never thought of or heard this before, but it makes sense how he explains it)
Great explanation on the power and use of infrequent and unexpected reinforcement
How to deal with competition from other guys
The control principle
What women want (a list worth memorizing)
Types of women (good and bad) and what to look for and what to screen against


In summary, this was a great book that will help you with dating women. To quote one of my favorite highlighted passages from the book, "it is better to regret the things you did than the things that you didn't".
If you aren't getting all the success you want with women, then not buying this book now could be one of those decisions that you will regret later.

Review of The Dating Black Book
- by Jack Kammer -

Author of "If Men Have All the Power, How Come Women Make the Rules?"
"Carlos Xuma is like that older, wiser brother you always wished you had. He comes home and sits on your bed and talks to you. You love him because you know that he cares about you. He wants you to do well, to be happy. He doesn't brag, he just tells you what he knows and you know he knows what he's talking about. He admits his mistakes and tells you what he's learned from them. He wants you to grow up right, as a man of power, pride and integrity. Because of him you're ready to overcome the obstacles and inequities the world throws in your path. You feel like the luckiest kid in the world. And in a way, since you've found Carlos Xuma, you are..."

Review of The Dating Black Book
- by Matthew Doeing - Getsexy.com - Ugly Man's reviews
Over 200 pages of very serious, very beneficial advice. Mr. Xuma has put together an extremly good study course here that is informative and easy to read. He understands the fundamental flaws in most men's behavior when it comes to their lack of success with women and his book does a damn good job of setting them straight.
Get [the e-books] and learn about 'The Big Trap', 'The Three Stages Of Continuum', 'What Women Really Want', 'The Female Sex Types' and much, much, more. This is a good read and will definitely help you in your quest to please women! - Rating = 5 Diamonds
Review of The Dating Black Book
- by Dusan Belic - Great Dating Services.com
Great work! Since I'm personally involved in the online dating business, I must say I was impressed with the information that you've provided in your ebook. As you mentioned, this is more than just a dating guide - it is a collection of priceless information on how to improve one's life in general. Everyone who follows the instructions given in your book will definitely benefit from it -- a MUST HAVE for all single men out there!!!

Review of The Dating Black Book
- by Freedatingtips.net
Rating: 4.5 / 5
What I like about this e-book is that it sees dating as a "dynamic" relationship...meaning it's constantly changing and shifting.
Unlike most ebooks that seem to be modeled after the "macho American" way of getting laid, The Dating Black Book has a lot of eastern philosophy that blends very nicely into the body of the book.
Don't know how to approach a girl? Don't know how to get her phone number? The Dating Black Book will show you all.
With over two hundred pages of well-written material, it could very well be "the" Black Book you need to improve your game.

Review of The Dating Black Book
- by D. Kwan at DatingClass.com
Carlos knows exactly what he's doing and reveals all in his Dating Black Book. You can't go wrong when you follow what he teaches. I can tell you that he studies this game like an expert...

He invests both his time and money to provide his subscribers with the best dating tips, resources and information. I already got more than my money's worth from his Dating Black Book and highly recommend it to you...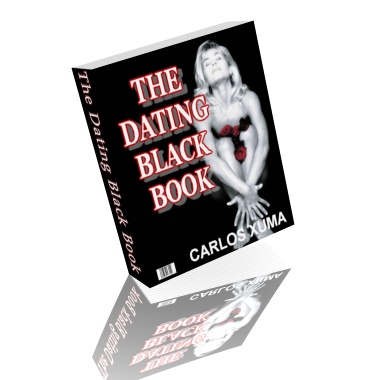 "So far I am blown away by the The Dating Black Book. My printer is busted so I have to print it at work cause I just can't get enough of it ... I own every program on the market. Yours was my last holdout and the best was last. I find myself quoting you to friends and family often and your take on "reality" is bang on."
-G

"I would just like to say if you are like me and need that little confidence booster or maybe just need some positive advice in learning the art of conversation with the ladies out there ,then don't hesitate to get this course guys as I promise that you will not regret it ...
"Why didn't I do this years ago!!!
Well done, Carlos. Kind Regards"
- Michael - United Kingdom
"Carlos, I must say that the usefulness and completeness of the Dating Black Book is a QUANTUM LEAP over anything else I have ever read.
I now have gone from approaching a woman every few weeks to exuding confidence with every woman I want to meet, every one of which I now approach.
"I now know how not only to spark their interest, but also how to hit their curveballs out of the park. I would definitely recommend The Dating Black Book to any guy who is looking to improve his understanding of women, and at the same time keep his balls."
- A.C.
Get better at attracting - and keeping - women.
Get The Dating Black Book today...